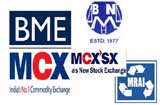 Welcome to Nico Extrusions Limited
Established in 1939, a family partnership firm in the name of Mohanlal Ramanlal & Co., started trading in Non Ferrous Base Metals. Later in 1996 the group launched Nico Extrusions Limited which is a very well-recognized Trading & Manufacturing Company in the Indian Metal Industry today and has wide and resourceful contacts in the trade circles. It carries on the glorious tradition with 3rd Generation now in command.
A brand Nico that defines...
A brainchild of Individuals who have spent decades in Metals & Recycling Industry and having experienced the flip side of market volatility and after gaining in-depth knowledge of metal trade, global network and then adopting the best principles to conduct its business profitably to strike the perfect balance between dynamism and commercial acumen. We would like to highlight our registration with several premier institutes in India
A Promoter Member of Bombay Metal Exchange (BME)
Bombay Nonferrous Scrap Merchants Association (BNM)
Multi Commodity Exchange (MCX)
Metropolitan Stock Exchange India Limited (MSXI)
National Stock Exchange (NSE)
Bombay Stock Exchange (BSE)
ISO Certificate: ISO 9001: 2015 VPQS/91/024
More
In the Nico world
Nico Extrusions Limited is an ISO certified Trading & Manufacturing Company in Metal Alloys, the experienced professionals have neck on international trading, risks involved, and have therefore developed strategy based on sound conservative principles to minimize the risks involved in International Trade. As a strong, well-established organization, it provides clients with a reliable production service tailored to their needs of highest Quality & Precision.